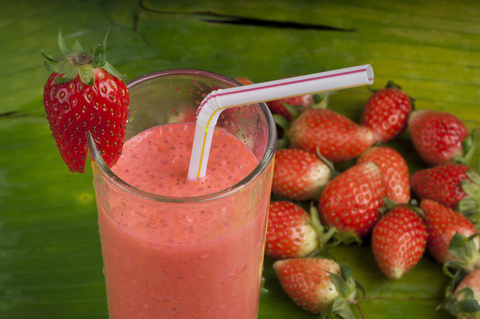 We often think of weight loss as having to eat less. That kind of thinking puts weight loss in a bad light. The mere thought of weight loss can make anyone feel deprived rather than feel healthy. A much better way to put it is to eat smaller food portions.
It's A Matter Of Balance
A nutrition expert care of Jamba Juice (I love Jamba Juice!) cites the main reason for weight gain.
"Weight management is a matter of balance. Eating too many calories for your activity level can lead to extra weight."
It adds that certain foods that are high in sugar can complicate the whole process of weight loss and management.
"Foods with added sugar such as soft drinks can contribute unnecessary calories that make weight management difficult."
A Better Way To Lose Weight
There is a better way to lose weight and that's to eat smaller food portions. According to the nutrition expert, eating smaller meals throughout the day can actually curb the hunger pangs.
Snacking To Eat Smaller Food Portions
Snacking is one healthy way to eat smaller food portions. But we should snack smarter. The first step to snacking smarter is to treat snacks as mini meals. This way we can avoid stuffing ourselves for breakfast, lunch, and dinner. Related read: Bistro MD provides healthy eating portions for weight loss
"Make snacks mini meals, not meal wreckers. Snack on the same healthy food you would have for breakfast, lunch, and dinner such as low fat dairy, poultry, whole grains, fruits, and vegetables."
We should also be aware of our own calorie intake. So snacking smart means counting the calories.
"Everyone has a calorie salary, a daily calorie budget that makes sense for your age and physical activity level. So be sure to keep track of the calories for mini meals."
Another easy way to snack smarter is by mixing protein-packed foods with carbohydrates.
"When possible, snacks should be a mixture of protein-packed foods like low-fat dairy and carbohydrates such as fruits and cereals to keep you fuller longer."
Keep in mind that by snacking smarter, we will be able to eat lighter and more often throughout the day. There's just no way we can starve our body with that kind of snacking.
Can It Keep Us Energized And Satisfied?
Absolutely, yes! Snacking smarter throughout the day can keep us full and energized.
"Eating often throughout the day provides energy and helps prevent hunger."
Snacking on food and beverage that have high fiber content can also make us feel fuller for a longer period of time. Example of high fiber food options are the following:
Apples
Bananas
Whole grain cereals and pastas
Vegetables such as broccoli, beans, and nuts
We don't have to limit our food intake and feel deprived. That will only lead us to gain back more weight because we tend to eat more if we are hungry. Training our mind and stomach to eat smaller food portions can hep us get rid of our old habit of eating too much during meal time. Related read: Right-sized portions served by Diet-To-Go for weight loss
That's why it's recommended that we snack smarter. After all, it is with no doubt that the healthier way to lose and manage weight is by eating smaller food portions. And the better and easier way of eating smaller food portions is by snacking smarter.
How about you? Any smart weight loss tips you'd like to share with us?